Heinlein opted for an efficient material supply system from motan
Heinlein, a successful company based in the town of Ansbach in Franconia, Germany, produces a wide range of closures and dosing systems, some of which are patented and predominantly designed for the pharmaceutical and cosmetics industry. When it came to expanding its production facilities, Heinlein opted for a modern and efficient material supply system from motan.
The METROLINK distribution station comprises two units that are able to automatically link ten incoming lines to ten outgoing lines respectively. The system has been designed in such a way that it can easily be expanded at any time.
The company manufactures its products in controlled sterile environments up to class 7 cleanrooms and operates its injection moulding machines in conditions that meet very high cleanliness standards. This alone would be sufficient reason to consider the use of a near dust-free central material supply system a must. However, the fact that a central material supply system also prevents the materials, which are primarily supplied directly from the silos, are mixed up and the fact that the automated system is highly efficient, are also important points for the company.
When Heinlein built a new production hall for 20 injection moulding machines with clamping forces of between 250 and 2000 kilonewton, it drew on its extensive experience with the material supply system already installed in its existing production hall when it came to selecting a material supply system. This hall contains a central material supply system manufactured by motan-colortronic that directly supplies 35 injection moulding machines with material from ten outdoor silos. Based on the company's positive experience with this system and its low maintenance needs, Heinlein opted for yet another motan-colortronic system for taking care of all of the materials handling in the new production hall.
The machines in its new hall are supplied with material – which primarily comprises polypropylene as well as HD and LD polyethylenes – from a total of twelve outdoor silos. All of these materials are 1 A pharmaceutical grade certified materials. The old and new material supply systems are furthermore connected to each other, which makes for greater flexibility and security. This is because, if needed, the new and existing silos can be used for supplying both the new and the existing production halls. The system was also equipped with a loading station for bagged materials for processing small quantities, such as e.g. TPE or various special types of polypropylene.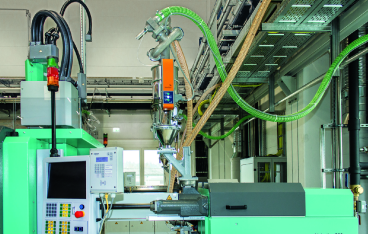 The MINIBLEND dosing devices are equipped with a number of exchangeable dosing modules. The picture shows a dosing device that is in the process of being fitted with a different module. This can be done in a few simple steps.
All of the system's pipes – from those leading from the silos to the automatic METROLINK distribution station to those leading to the machines – are made of stainless steel and meet Heinlein's high hygiene requirements. They were installed on predefined sections along the hall's walls specifically designed and built to support the entire supply infrastructure such as power lines, compressed air pipes as well as cooling water supply and return pipes.

The entire system revolves around the METROLINK – the distribution station, which, once set up, automatically and without any risk of contamination connects all of the relevant material supply system pipes with those of the relevant machines to be supplied. This means that there is zero risk that a machine could be supplied with the wrong material. The material supply system chosen by Heinlein takes up very little space and has 2x10 material supply lines and 2x10 outgoing lines leading to the machines. In contrast to other distribution stations, there is no need for switching any connections or emptying operations during conveying thanks to the permanent pre-defined material allocations in the METROLINK system.
Heinlein also turned to motan-colortronic to meet its dosing needs and fitted its machines with volumetric MINIBLEND V disc dosing devices and METRO G conveying hoppers with de-dusting modules as the final items on the material conveying lines. These devices are of various sizes in line with the relevant throughput volumes. The system's two-component valves can be used to simply feed back any regrind material into the production process. The MINIBLEND V devices release the additives and colours into the base materials at the same time as they are drawn into the injection moulding machines. This means that there is no need for a mixer.
The company has also ensured that there is capacity for future expansion: The entire material supply system can easily be expanded to supply 40 injection moulding machines.