Lessons learned: moulder sees robotics in a new light
More than four years ago, Vision Plastics of Delavan, Wisconsin, USA, began making small lenses and frames to hold and focus light from rows of small, high-efficiency LEDs clustered into architectural and street lighting products. Since then, as its customer's high-efficiency LED technology morphed into larger and brighter forms, Vision's production morphed with the help of robots and the company is growing rapidly.
Increased use of robotics has brought Vision Plastics a higher level of consistency, along with significant yield and quality gains.
Critical to the successful deployment of robotics was an evolution in thinking by Vision Plastics CEO Craig Hubertz, who once considered robots an expensive substitute for competent machine operators. "We've always put our money where we could get the biggest return, usually a moulding machine." Cost-justifying a robot, he believed, was more difficult.
But four lessons that Hubertz and his team learned since have turned them from robot skeptics to believers. With the help of three-axis Cartesian robots from Sepro Group, Vision Plastics not only optimized its specialty lens production, but has now begun to automate high-value and long-cycle-time production equipment in its custom moulding operations.
Lesson 1: Guarantee error-free deliveries
Hubertz' education in robotics began when his customer – a producer of architectural and outdoor lighting products – asked Vision to deliver LED lenses in pre-counted stacks, properly oriented (front-to-back, side-to-side) so they could be loaded directly into the customer's automated assembly process.
Knowing that even conscientious, experienced human operators were prone to lapses of attention, Hubertz decided to look seriously at robots. "My product was going into my customer's automation, and they're running it 'lights-out.' We couldn't afford to be the cause of a problem because we delivered a part in the wrong orientation."
So, Vision worked with Sepro to develop a simple automation cell around one of the company's JSW moulding machines and a Sepro S5-25 three-axis beam robot. The robot removes the frame from the mould, passes it by a camera for quality inspection, then places it onto stacking rods, properly oriented and counted. Each frame "stack" is then secured and packaged for delivery, ready to load into the customer's equipment, which inserts LED lenses, which Vision moulds in high volume elsewhere in the plant. That approach, Hubertz said, "guarantees that everything going into the customer's assembly system is properly oriented."
One of Vision's first automation cells used a Sepro S5-25 three-axis beam robot to remove lens frames from the mould, pass by a camera for quality inspection and then places them onto rods, properly oriented and counted.
Lesson 2: Reduce costs and boost quality
Emboldened by that success," Hubertz and his team realized that robotics might help in ways they hadn't considered before.
The customer wanted to produce bigger lenses for new LED products and these would require brass sleeves moulded into the corners of the lenses to prevent damage during assembly. "In the past," Hubertz explains, "we would have looked at the investment for automation and figured 'Hey, let's just load these sleeves by hand.' But after we saw the quality benefits of the Sepro robots, we thought, 'it's not a big stretch to buy a sleeve feeding system and use a robot on the press to load the brass sleeves into the mould."
The resulting process, which was developed jointly with Sepro, works like this: an automated feeder orients the sleeves first and then the Sepro robot goes to work. The end-of-arm tooling (EOAT) on the vertical arm picks up eight sleeves and prepares to load them into the mould. When the cycle ends and the mould opens, the vertical arm descends and pulls two finished lenses out of the mould cavities. Then the EOAT rotates 90° so that it can place the brass sleeves into the mould. As a new cycle begins, the robot offloads the finished parts.
Vision has also seen productivity and quality gains due to cycle-time improvements, with consistent, automated handling resulting in lower scrap.
"All of this runs 'lights out,' so I don't have to put a dedicated operator on each machine," says Hubertz. However, he's not replacing people with robots; in fact, quite the contrary. "We have not dislocated or fired any employee due to the increased use of these robots. We have effectively used automation to improve what the operators are able to do. We've been able to deploy our operators more intelligently for greater efficiency and productivity," he says, "and our employees are actually very happy to have the robots assist them. We've been sending many of them for training to make them better equipped to work in our automated operation. The jobs they do today are more interesting and varied, and because they are more productive, pay rates have increased."
Vision Plastics' most advanced robotic cell yet uses a SCARA robot (visible behind guarding below the Sepro robot arm) to position lens inserts for pick-up the Sepro robot.
Lesson 3: Enable value-added innovation
The precision and consistency of the sleeve-loading robot led Hubertz and his team to propose a further cost-saving production innovation. Up to this point, Vision had supplied lenses and frames separately to the customer, who would assemble them into finished lens modules. But, with confidence born out of the earlier automation successes, the customer simplified the product design and Vision began making the finished modules right in the mould.
With the customer's agreement and Sepro's support, Hubertz and his team have developed steadily more advanced robotic cells. First came a cell in which lenses (moulded elsewhere in the plant) are positioned manually into a nest on a rotary table and a camera is used to verify that the lens layout corresponds to the mould layout. (Different tables are used for different moulds, depending on the size and orientation of the lenses and the layout of the various moulds.) Then, the table rotates so that a Sepro S5-25 robot can pick up the lenses from the rotary table and move into the mould space. As each cycle completes, the robot vertical arm descends to remove and hold the finished products before rotating to insert the lenses for the next mould cycle. As the mould closes, the robot places the finished parts into a marking station where each is laser-etched before being sent on a conveyor to the packaging station.
"Here we are really using automation not only to improve our efficiency and quality," Hubertz explains. "We are also adding additional value by helping our customer improve their product."
The next cell, the most advanced system yet, eliminates operator involvement entirely by using a SCARA robot to position the lenses in an array for the robot EOAT to pick up and transport into the mould where they are inserted into cavities on the stationary mould half. Once it releases the lenses, the L-shaped EOAT rotates 90° so that it can pick finished lens assemblies from the moving half of the mould. The robot arm retracts from the moulding area and the mould closes so a frame can be moulded over lens inserts to complete the next set of assemblies. Meanwhile, the robot places the finished parts on a conveyer which transports them under a camera that verifies finished part quality.
The in-mould sequence of operations in one of Vision's most advanced cells is as follows: after entering the mould space (left), the EOAT places lens inserts onto the moving half of the mould (center). Then the L-shaped EOAT rotates 90° to pick finished lens assemblies (right) and removes them to a conveyor.
Lesson 4: Improve competitiveness
Having seen the kind of benefits robotics brought to their lens-related operations – error-free deliveries, cost savings, higher yields, and reliable, 'lights-out,' 24/7 production – Hubertz and his team are now adding robots to their custom-moulding operations, starting with high-value and long-cycle parts. In fact, their latest order is for a Sepro robot that will be mounted on a 650-ton Van Dorn press, bringing the benefits of automation to an older machine.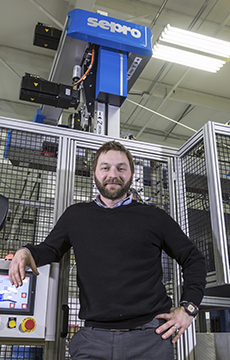 Adam Hubertz, Sales Account Manager, works closely with the lighting company for which Vision moulds lens assemblies.
Adding a robot means that "the process is no longer tied to an operator and how well that operator orchestrates opening the door, extracting and handling parts, loading, closing the door, and all the rest," says Hubertz. He says that using robots for part extraction means that parts don't sit in open moulds, they don't drop and break or get mishandled and scrapped, and cycle times stay consistent. For all these reasons, he says that "we've gone to a robot on our biggest [custom moulding] press" and adds that two more robot-equipped custom moulding cells are now being developed. When complete, the new cells will allow a single operator to monitor and package output from multiple, long-cycle machines.
Along with the obvious benefits, Hubertz and his team believe that the move to robotics has brought Vision Plastics a higher level of consistency, along with significant yield and quality gains. "When you're running a more consistent process," he says, "you can expect that quality will follow."
And it's paying off. Vision Plastics is growing rapidly. An 18,600 square foot addition completed in 2013 increased the size of its facility nearly 50 percent and provided more engineering and production space. Overall employment has increased as a result of being able to take on more work while remaining cost competitive. The company now employs 120 and runs 30 presses (mostly supplied by JSW; many of them electric) ranging in size from 30 to 650. Vision has a total of 9 Sepro robots with more on the way.
In a world where some customers would rather switch suppliers or source offshore than accept price increases, Hubertz sees one other vital benefit in his robotics investment: "Being more productive with each employee translates to more competitive rates and means more business in the end.
Sepro is a global company, with in-depth engineering and manufacturing capabilities, strong technical and marketing partnerships, unmatched service and support, and a diverse product offering. Founded in 1973 and now headquartered in La Roche-sur-Yon (France), Sepro Group was one of the first companies in the world to develop Cartesian beam robots for injection-molding machines, introducing its first CNC controlled "manipulator" in 1981. Today, Sepro is one of the largest independent sellers of Cartesian robots. Customers around the world are supported by wholly-owned daughter companies in Germany, Spain, Benelux, the United Kingdom, the United States, Mexico, Brazil and China. Numerous direct sales and service offices as well as independent business partners, distributors and service hubs extend Sepro's global network to over 40 other countries. To date, Sepro has equipped more than 30,000 injection-molding machines worldwide. The company's global turnover for 2014 was €79.2 million.