Injection moulding technologies for secure future viability
"Innovation is key to the future" – this is the motto of Chinaplas 2018 from 24 to 27 April in Shanghai. At its booth, ENGEL will be presenting many exciting applications and technology solutions to demonstrate how innovative injection moulding technologies can help build competitive advantage and secure future viability. When it comes to challenging plastic products, the injection moulding machine producer and systems solution provider based in Austria is among the preferred suppliers of the plastics processors in Asia.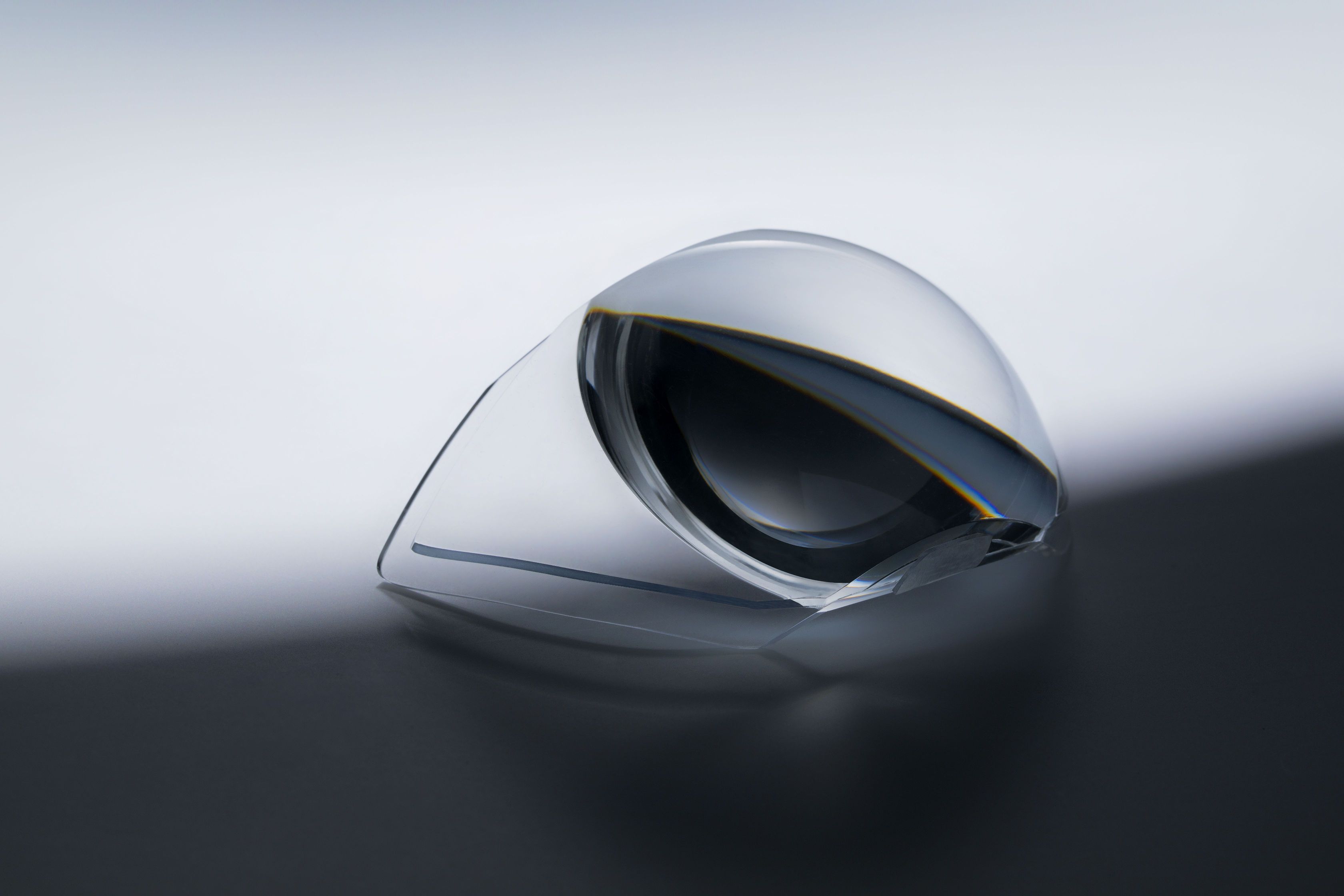 The challenge in producing thick-walled lenses is to combine high optical quality with high production efficiency. ENGEL's optimelt multilayer technology with external cooling meets that challenge.
Chinaplas 2018 is all about growth. "The investment climate in China is on a new high," reports Gero Willmeroth, President Sales and Service of ENGEL Machinery Shanghai, in the run-up to Asia's most important plastics trade show. "Chinaplas will give a further boost to this trend." Growing competition among the local producers of plastic components is another factor contributing to this positive development. Investment is being made in modernising machinery and new technologies that help to raise production efficiency and product quality.

Economical injection moulding of thick-walled lenses
The exhibition space dedicated to Automotive at the ENGEL booth reflects the trend towards the use of innovative process technologies. This is the first time that ENGEL is presenting a complex multi-component process with interlinked injection moulding machines at Chinaplas. Two duo injection moulding machines will produce LED lenses made of PMMA with a thickness of 22 mm for vehicle headlamps.
Plastic is increasingly being used to produce high-quality optical components. The polymer materials are lighter than glass and offer product designers more freedom. The challenge, however, is to combine high optical quality with highly efficient production. The optimelt multilayer technology developed and patented by ENGEL with external cooling meets precisely that challenge.
ENGEL is connecting two duo injection moulding machines to produce LED lenses at Chinaplas.
Initially, a preform is produced and further layers of the same material added to it in subsequent stages. Overmoulding compensates for any sink marks in the surface of the previous layer and achieves high optical quality. Optical tests have shown that the boundary between the layers has no influence on the performance and function of the lighting optics.
Because the cooling time in injection moulding increases with the square of the wall thickness, the multilayer technology significantly improves efficiency especially in the production of thick-walled components. Several thin layers cool in total faster than one thick layer. If, in addition, the base body of the lens is removed from the mould to cool, the cycle time is shortened further. Cooling in the air takes longer than in the mould, but it does not affect the cycle time.
During Chinaplas, the lens base bodies will be produced on a duo 1060/400 injection moulding machine in a 4-cavity mould. An easix articulated robot is integrated in the production cell and removes the four parts and passes them to an external cooling station. From there the robot takes four already sufficiently cooled preforms at a time and transfers them to the 4+4-cavity mould of the duo 600H/600H/500 combi multi-component machine with rotary table. There, two more PMMA layers are applied successively before easix removes the finished lenses. The cycle time is significantly lower than 3 minutes, although the preforms take around 30 minutes to cool. The cooling time can be controlled via the number of cooling positions in the external cooling station.
Thanks to its free accessible clamping unit, the tie-bar-less e-victory IMM unlocks major potential for high-efficiency LSR processing
The combination of a standard injection moulding machine and a two-component machine is synonymous with very high production flexibility. Both machines can also be utilised independently of the other with different moulds.
ENGEL is presenting the exhibit jointly with system partners including Skymould (Ningbo/China), HRSflow (San Polo di Piave/Italy), Innolite (Aachen/Germany), Opsira (Weingarten, Germany) and Gimatic (Shanghai, China).
In order to integrate other peripheral units and moulds alongside its own robots and process technologies, ENGEL has established a worldwide network of system partners. "We have very strong partners locally in China who, like us, are very familiar with the demands of local processors and translate them into optimal solutions," explains Willmeroth. "By working with local suppliers, we can also guarantee high cost efficiency for challenging applications and keep the delivery time short for the complete plant."

Innovative lightweight concepts from a single source
Material substitution to reduce component weight is an important trend in the automotive industry, also in China, where electric vehicles are very much on the increase. There are four main areas the processors in Asia are looking at here: LED lenses made of PMMA, glazing systems made of polycarbonate, foam injection moulding, and composite technologies.
In the production of pipette tips, the free accessibility of the tie-bar-less mould area makes it possible to move the automation particularly close to the clamping unit.
ENGEL is dedicating an Expert Corner of its booth to composite technologies. At its Center for Lightweight Composite Technologies in Austria, the machine manufacturer works with partner companies and universities to develop especially economical processes that will help composite technologies become established in automotive series production faster. From HP-RTM and SMC, through processing of thermoplastic semi-finished products such as organic sheets and tapes, to reactive thermoplastic technologies such as in-situ polymerisation (T-RTM), ENGEL's developers are exploring all the current cutting-edge technologies and have already achieved several internationally significant milestones. A central success factor in that process has been ENGEL's expertise in automation and systems solutions. At the same time, ENGEL also offers in its v-duo a machine series that is specifically developed for the demands of the composites industry.
Processing liquid silicone rubber, no reworking required
Electric mobility relies not only on new processing technologies but also new design solutions. For example, electric vehicles require a greater variety of grommets to lead wires safely from the engine compartment into the vehicle interior than those with a combustion engine. During Chinaplas, ENGEL is producing wire grommets made of liquid silicone rubber (LSR) for individual wires with a corresponding fine structure. A tie-bar-less e-victory 50/80 injection moulding machine with electric injection unit is used to process the extremely low-viscosity LSR with high precision and high efficiency. On the ENGEL tie-bar-less injection moulding machines, the patented force-divider ensures that the moving mould mounting platen follows the mould exactly while the clamping force is building up distributing the clamping force evenly across the platen face. This keeps all the cavities closed with exactly the same force, which ensures consistent compression of the mould and consistently high product quality. "Burr-free manufacturing with no reworking required is the only way high-tech components can be produced economically from LSR in injection moulding," Willmeroth stresses. LSR is used increasingly in China. Besides seals for diverse applications, a growing number of microcomponents, for example for mobile phones or medical technology, are also made from LSR on tie-bar-less ENGEL machines.
ENGEL is presenting LSR processing with its partner Elmet Elastomere Produktions- und Dienstleistungs GmbH (Oftering, Austria). In this application, the 4-cavity mould and the LSR dosing system, which can be integrated in the CC300 control of the e-victory machine, come from Elmet.

A cleanroom solution with a tiny footprint
Another premiere is in Medical, where ENGEL is presenting a highly integrated production cell for manufacturing pipette tips under cleanroom conditions. This exhibit too, is the result of cooperation between Europe and China. ENGEL, Waldorf Technik (Engen, Germany) and Wellmei Mold (Dongguan, China) have combined their know-how and experience with medical precision parts and tailored the system solution exactly to the specific requirements of the Chinese processors.
Because the pipette tips are used in fully automated analytical systems, reproducible product quality is the highest priority.
Because the pipette tips are used in fully automated analytical systems in medical diagnosis, reproducible product quality is the highest priority. As mass-produced parts, however, they are also under especially high cost pressure. To achieve a stable process and high economic efficiency, the system partners integrate a tie-bar-less e-victory injection moulding machine from ENGEL with a 32-cavity hot runner precision mould from Wellmei and high-speed automation from Waldorf Technik in an extremely compact space. The free accessibility of the mould area makes it possible to move the automation particularly close to the clamping unit of the e-victory injection moulding machine.
The electric injection unit on the hybrid machine ensures very high precision when injecting the plastic melt. To additionally compensate for fluctuations in the ambient conditions and raw material, iQ weight control is also used. The assistance system from the ENGEL inject 4.0 programme analyses the pressure in real time during the injection process and compares the measured data with a reference cycle. For every shot, the injection profile, the switchover point and the holding pressure are automatically adjusted to the current conditions and the injected melt volume kept constant throughout production. This is a proactive way of preventing rejects.
The automation is another key to constantly high product quality in this application. The automation solution developed by Waldorf Technik removes 32 pipette tips from the mould in sync with the injection moulding process and loads groups of 96 pipette tips, sorted by cavity, into racks. Every 18 seconds, 96 pipette tips are discharged from the production cell, which is enclosed to create a cleanroom environment.
In practice, subsequent steps such as quality control or packaging are increasingly taking place immediately after the injection moulding stage. In place of the many different downstream processes, during Chinaplas a Sawyer collaborative robot from Rethink Robotics (Boston, USA) retrieves the loaded racks at the end of the production process. A special feature of collaborative robots is that they require no protective enclosure and can operate safely hand in hand with employees.

inject 4.0: consistent quality without specialist knowledge
With intelligent assistance systems such as iQ weight control, ENGEL makes it especially easy for its customers to ensure consistently high product quality, even without specialist knowledge. The iQ systems continually analyse critical process parameters and readjust them automatically, shot for shot. The result is a self-optimising injection moulding machine.
The growing intelligence of the machine control is a key feature of the smart factory, the goal of Industry 4.0. Networking of production systems and systematic use of machine, process and production data additionally help to raise the productivity, quality and flexibility of manufacturing. Under the name of inject 4.0, ENGEL already offers a series of mature products and solutions for digitalising and networking injection moulding production that have proven themselves in practice many times. These generate considerable benefits both in isolation and as part of a digitalisation strategy encompassing the entire production operation. "Step by step towards the smart factory, that is our customers' strategy," Willmeroth says.
ENGEL is demonstrating the great potential of the inject 4.0 solutions in the production of inject 4.0 logos on a tie-bar-less and fully electric e-motion 80 TL injection moulding machine. The CC300 machine control is capable of simulating process fluctuations so that the automatic readjustments by the intelligent assistance systems can be tracked on the display. While iQ weight control maintains consistent injected melt volume throughout the injection moulding process, iQ clamp control monitors the mould breathing in order to calculate and automatically adjust the optimal clamping force. "With the self-optimising injection moulding machine, we are making it especially easy for processors to exploit the full efficiency and quality potential of the machines and technologies," says Gero Willmeroth. "The first machines with iQ are already in operation in China."
Tags: #
Application
, #
Automation & control
, #
Events
, #
Injection mold
, #
Injection molding machine
, #
Materials
, #
Molding technologies
, #
ENGEL
, #
Automotive
, #
Chinaplas
, #
Clamping unit
, #
Cleanroom molding
, #
Control system
, #
Foaming
, #
Full‐electric IMM
, #
Hot runner
, #
Hybrid IMM
, #
Industry 4․0
, #
Inspection & QC
, #
Medical
, #
Multicavity mold
, #
Optics
, #
Preforms & closures
, #
Robotics
, #
Tie‐bar‐less IMM
, #
More about "Automation and Control, Robotics" in Smart Molding Digest