Unique range of advanced materials
At JEC WORLD 2019, being held from 12 to 14 March 2019 at Paris Villepinte, Arkema is showcasing its unique range of high performance materials and cutting-edge solutions to meet growing demand for advanced composites in the construction, transportation and sports sectors. By offering resins and thermoplastic materials for the manufacture of recyclable composites, Arkema is committed to addressing the major environmental challenges of end-of-life composites.
Elium®, the value of recyclability for wind turbine blades
Conserving resources, minimizing waste and promoting recycling are challenges of the circular economy which the Elium® liquid thermoplastic resins can aptly meet.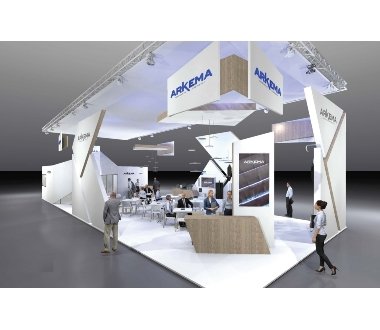 The ever growing global expanse of wind arms, however, raises a major environmental and societal problem: the processing or landfilling of end-of-life blades, which are currently made from thermoset, epoxy or polyester composites. Arkema is addressing this challenge by marketing Elium®, the first liquid thermoplastic resin suitable for manufacturing new generation blades from recyclable composites.

These wind turbine blades made from the Elium® resin will be suitable for mechanical and chemical recycling:
- Mechanical recycling: end-of-life blades are cut up and ground, and the thermoplastic composite can be melted again and mixed with another virgin material (ABS, PC, PVC, etc.) to be processed into a new material.
- Chemical recycling: this entails depolymerizing the resin back to the basic monomer. The ground-up material is then heated to obtain the monomer in gaseous form by separating it from the other components like fiber and any other organic or inorganic material (adhesive, foam, filler, coating, etc.). Once condensed and distilled, the resulting monomer in the form of a brown liquid is then purified. The clear and transparent liquid thus recovered can then be used to manufacture new Elium® resins.
Elium®, the value of recyclability in boat building
Won over by the performances of the Mini 6.50 Arkema boat prototype made of Elium®, Brittany-based Pro Marine has just manufactured the underside of a semi-rigid boat in Elium® by infusion molding, in partnership with Arkema. This recyclable semi-rigid boat is exhibited for the first time at JEC WORLD 2019.
Arkema, a major player in the composites market
For the last ten years or so, growing demand for advanced composites has represented for Arkema, thanks to its expertise in the field of materials, a development opportunity for a range of thermoplastic matrices with outstanding properties that help speed up the development of composite tapes.
A renowned key supplier to the high-tech composites industry, Arkema took part in round-table discussions on "French Excellence in Composites: a growing demand for advanced composites" scheduled on Thursday 14 March 2019 as part of the JEC 2019 conference program. Michel Glotin, Materials Scientific Director, presented Arkema's many initiatives in highly diverse sectors such as construction, aerospace, oil & gas, and sport.
Arkema's range of advanced materials for composites
High performance thermoplastic resins
• Kynar® PVDF thermoplastic resin features outstanding mechanical properties, as well as corrosion resistance and good fire-resistance.
• Carbon fiber reinforced Kepstan® PEKK offers a degree of rigidity comparable to that of certain metals, as well as very good resistance to impact, high temperatures and highly aggressive chemical agents.
• Rilsan® Matrix polyamide is a high temperature polyamide reinforced with carbon fiber or continuous glass fiber.
• Elium® resin is a liquid thermoplastic resin used to manufacture recyclable composite parts. It is processed using the same technologies as thermosets, with one major asset: it can be processed at ambient temperature. The mechanical properties of the resulting parts are similar to those of thermosets.

The new Sartomer liquid resins combine superior mechanical properties with low VOC levels for composite matrices

Additives for stronger thermoset composites
• Clearstrength® impact modifiers
• Nanostrength® acrylic block copolymers
• Orgasol® polyamide ultra-fine powders
• Luperox® organic peroxide

Bostik SAF® structural adhesives for high performance assemblies