Milacron expands all-electric machine portfolio
Milacron, a leading industrial technology brand serving the global plastics processing industry, has announced a new addition to its all-electric offering via the FANUC Roboshot ALPHA-SiB series available through Milacron to molders across North America.
FANUC Roboshot ALPHA-SiB
Milacron is known globally for its injection molding machinery prowess and industry-leading solutions. Included in this portfolio are some of the industry's most innovative injection molding equipment, expertise Milacron has developed since 1968.
Milacron is proud to announce it is now offering the FANUC Roboshot ALPHA-SiB, which is based on the best-selling FANUC Roboshot ALPHA-SiA series and is a continuation of Milacron's partnership with FANUC in the Americas for over 35 years.
Mac Jones, President, Milacron Injection & Extrusion, explains how Milacron's injection offering differs from Milacron's competitors: "As a company, we are proud to provide world-class solutions, technology, and service for our customers, and we look forward to continuing our valuable partnerships and advancing critical innovations across the plastics industry."
The ALPHA-SiB series, 55, 110, 140, 165 and 240-ton models are now available with variations of injection capacity. Expanding the flexibility of the ROBOSHOT line, smaller injection capacity models are now available in multiple sizes for high precision molding applications. Milacron will deliver its first ALPHA S140iB to a custom molder in the Midwest in the second quarter of 2021.
Milacron and FANUC have partnered to adapt the Roboshot Alpha to meet the requirements of a wide variety of applications on both the clamping and injection unit. Special features have been specifically developed for applications such as Medical, LSR, Optics, Electrical Connectors, and Packaging. As an exciting example of these special features, Milacron's technical experts used 3D modeling to develop new high-flow capacity water systems to prevent operation without water flow.
"Over the last 2 years, these systems have proven to be invaluable for the medical and packaging industries." says Kent Royer, Technical Product Manager-ROBOSHOT. "Since NPE 2018, we also have seen a high demand for the integration of Mold-Masters Hot Runner controllers. Using Modbus and SPI communications, we've developed capabilities that will reduce human error in operation and allowing for the creation of custom shut-down sequences using the ROBOSHOT Customized I/O feature using ADD/OR logic."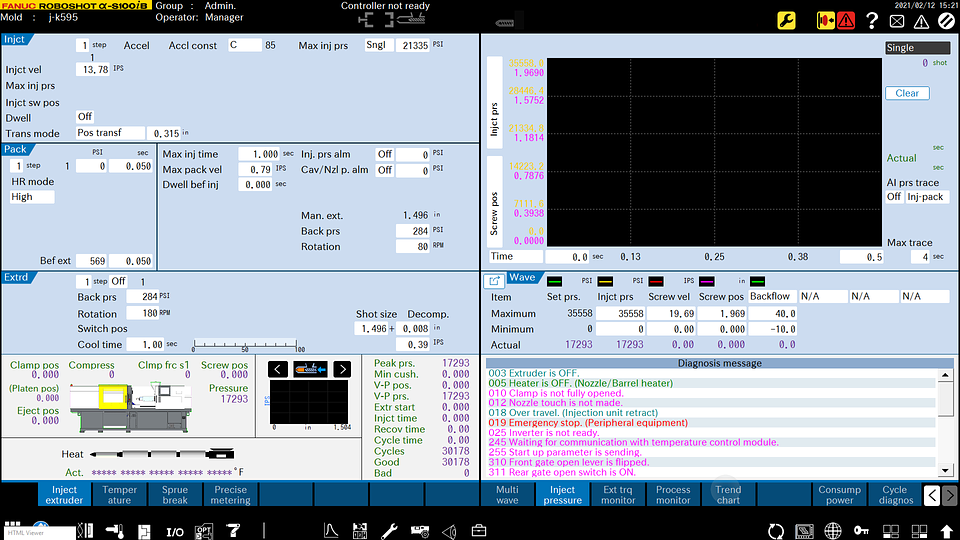 NEW PANEL iH Pro Control Screen
The ALPHA-SiB series will include a higher resolution/performance PANEL iH control and new electrical standards. Additionally, Milacron has announced that several previous options are now standard with the iB series, adding to the already long list of standard features that make it one of the most flexible platforms. This includes increased mold stack height, 3-stage air eject, expanded I/O for automation/sequencing, Precision clamp force control for consistent venting and reduced mold wear and 200 Operator ID with custom lock-out capability for security control and tracking.
NEW PANEL iH Pro Control Screen
Like all of the FANUC Roboshot injection machines, the ALPHA-SiB Series offers proven power, quality and reliability. This machine offers numerous upgrades for companies looking for a press with the most flexibility with lower overall life cycle costs, increased productivity/precision and overall business success.