Federal President of Germany visited Foshan
Recently, Federal President of Germany Frank-Walter Steinmeier, accompanied by Chinese Ambassador to Germany Shi Mingde, visited Foshan. President Steinmeier paid a visit to the Foshan Robotation Academy and attended the Digital and Economic Roundtable. Foshan Mayor Zhu Wei and city leaders Guo Wenhai and Liu Junwen were also presented.
YIZUMI introduces achievements of connecting China and molding technology in Europe
As a representative of Foshan enterprises, Guangdong Yizumi Precision Machinery Co., Ltd. was invited to participate in this roundtable meeting. Richard Yan, Managing Director of YIZUMI introduced the cooperation between YIZUMI and German companies in recent years, highlighting the achievements of connecting China and molding technology in Europe.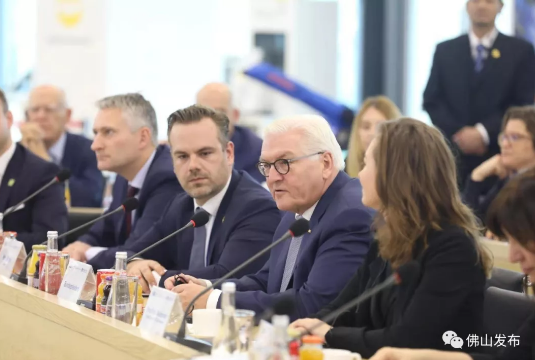 It is reported that President Steinmeier's visit to China focuses on cooperation on artificial intelligence and digitalization
Yan said that smart manufacturing has been included in the development strategy of Yizumi in recent years, and Yizumi has put forward the idea of "connecting China and Europe molding technology", which is mainly reflected in cooperation with Germany.
In 2016, Dr. Hans Wobbe who has more than 30 years of experience in the plastics machinery industry joined Yizumi and serves as Chief Strategy Officer. In 2017, Yizumi joined the Institute of Plastics Processing (IKV) of the Aachen University in Germany, and also established its subsidiary—Yizumi Germany at its campus.
Yizumi Germany's task is to carry out preliminary developments with a focus on injection molding and thixomolding for the Yizumi Company, with the aim of implementing these innovative ideas into a product ready for series production that will meet the high demands of the European market in particular. Yizumi Germany works with the technical team at the headquarters of Yizumi in China to promote commercialization of the innovative solutions, providing them to customers worldwide.
The First Innovative Product: SPACE A
This year, Yizumi Germany and IKV cooperated to launch the first innovative product, the SPACE A robotic flexible additive manufacturing system, which can use the additive manufacturing process (commonly known as 3D printing) or other processes such as inserts and subtractive manufacturing.
SPACE A
SPACE A is not justa mechanical device, but also has many intelligent functions, such as:customizing personalized products, improving the flexibility of enterprise production; establishing a shared platform for developers, allowing customers to design products through APPs, and quick programming and printing.
As a mechanical equipment manufacturer, Yizumi strives to promote the transformation and upgrading of the industry. The company is currently working on an online industrial platform for high-pressure molding enterprises. At this stage, enterprises can use this platform to monitor equipment status and production progress on computer and mobile terminals to realize visual production.
In China's machinery and equipment manufacturing industry, smart manufacturing has become the consensus in the industry. With the technological innovations such as 3D printing and artificial intelligence, Yizumi will continue to increase its R&D investment, especially in the in-depth docking of German innovative technologies, so that smart manufacturing can release more energy in the industry.